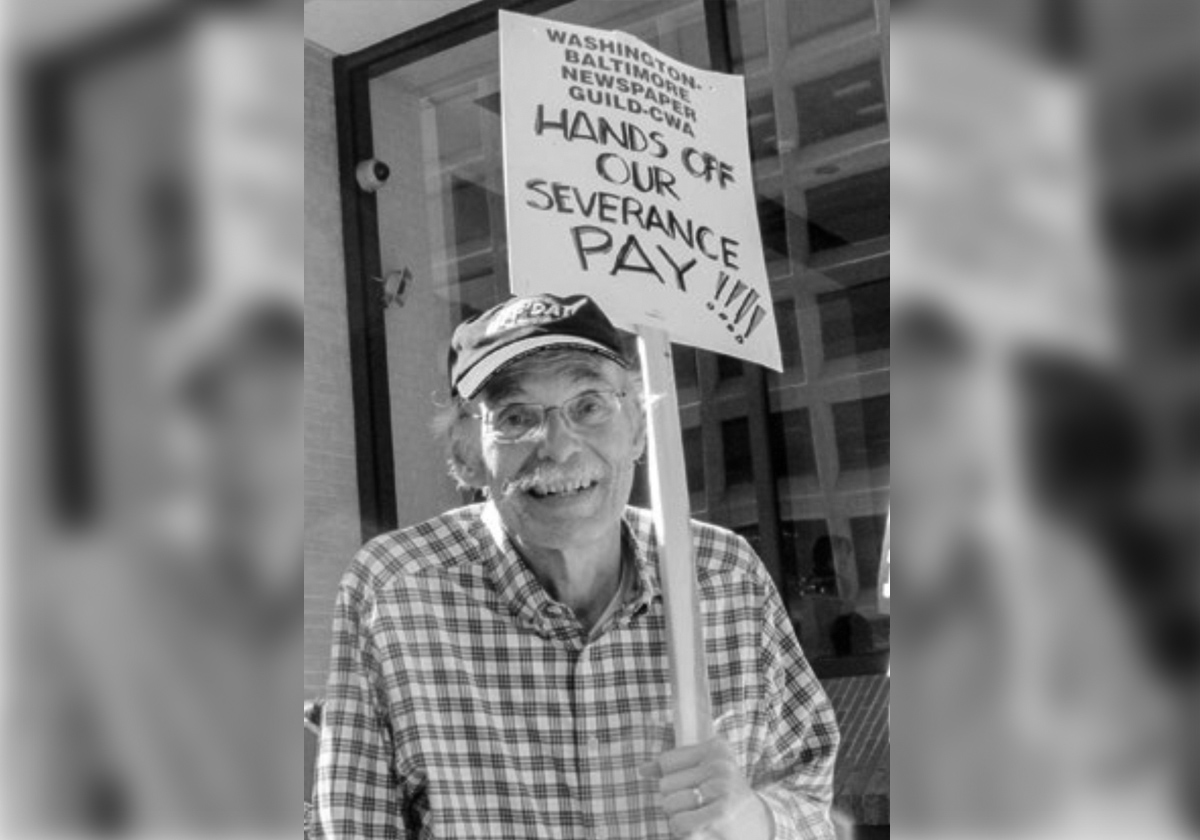 Bruce Raymond Nelson, 73, died Tuesday, January 10, 2023 in Laurel, Md. Bruce was a NewsGuild staff representative for three decades, starting in 1984 and retiring in 2015.
Bruce trained hundreds of members, at sector meetings, district meetings and alongside workers at the bargaining table.
Born in St. Cloud, Minn., he spent his career involved in journalism, first as an award-winning reporter in Minnesota and then as a Guild staff rep, working alongside members at nearly every Guild paper, including the Washington Post, Albany Times Union, Baltimore Sun, Chicago Sun Times and Milwaukee Journal Sentinel, to name just a few.
While in college, he reported for Minnesota's St. Cloud Daily Times and tried to organize his coworkers in 1971. "I saw the St. Paul Pioneer Press contract and a salary that was four times what I was getting," he told the Guild Reporter in 2015. He happily jumped ship, ultimately serving as local president before joining the Guild staff in January 1984.
In addition to being an extremely skilled negotiator, Bruce was also a talented educator. His unparalleled skill as a trainer has made an indelible mark on the Guild, as literally hundreds of Guild leaders learned the ropes from Bruce at the New Local Officers Seminar and at countless training sessions at district council meetings and conventions.
"Much of my training as a local leader came through Bruce," said Marian Needham, the NewsGuild-CWA Executive Vice President. "I had the benefit of working with him years later when we were both national reps, and I continued to learn from him in that role. With humor, intelligence and a great big heart, Bruce helped us all understand the meaning of our union."
"I first met Bruce after he retired when I was running for president in 2019," said NewsGuild-CWA President Jon Schleuss. "He had this way of resting his fingers on his forehead and troubleshooting several problems at once in his mind. And then he had so much joy when he saw the collective win to the problem."
"He was very instrumental with Washington Post negotiations for many, many years," said Cet Parks, Washington-Baltimore NewsGuild Executive Director. "In negotiations Bruce would sit there and management would ask him what he thought," he said. "He had the uncanny ability to use the Jedi mind trick on management to think of him as neutral," he said. Bruce helped WBNG secure several agreements. "He was one of a kind," Cet said.
"You just loved him once you worked with him," said CWA Secretary-Treasurer Sara Steffens, who worked with Bruce when she bargained for the Guild. "He has such a sense of union building," she said. "It's a rare quality to be so grounded in why we do this work and it was inspiring to everyone around him."
"Bruce was extremely intelligent, possessed insight, was a keen judge of human nature, had a sly sense of humor, friendly and had a knowledge of labor relations that benefitted not only all of us in Albany, but across the Guild," wrote the Albany Newspaper Guild.
At the time of his retirement in 2015, many Guild leaders and staffers remarked on Bruce's ability to build the Guild.
"No one has had as profound an influence on our union as Bruce Nelson," said Darren Carroll, a longtime staff rep who's now retired. "His legacy will endure in the hundreds of people that he recruited, trained, encouraged and mentored, imparting a philosophy to each of them that underpins all that we do: namely, that we build power by sharing it, that we become stronger through the relationships we build with others in our union," he said. "In making that fundamental concept central to his work, he helped each of us not simply to become better leaders, but better people."
Bruce is survived by his loving wife of 23 years, Melissa (Cunningham) Nelson, retired Guild director of collective bargaining, children Andrea Bachinski and Joshua Locke, daughters-in-law Megan Bachinski and Daniela Pereira de Carvalho, sister-in-law Diane Cantele (Timothy), brothers-in-law Patrick Cunningham and Michael Cunningham (Heather), dearest cousin Nan Nelson, several nieces and nephews, and many cousins.
Funeral services will be held at 1 p.m., Friday, January 20 at Donaldson Funeral Home, P.A. in Laurel, Md.
In lieu of flowers, the family requests donations be made in Bruce's memory to Camp Friendship/True Friends, 10509 108th Street NW, Annandale, MN 55302 or online at truefriends.org.
Reposted from The NewsGuild.