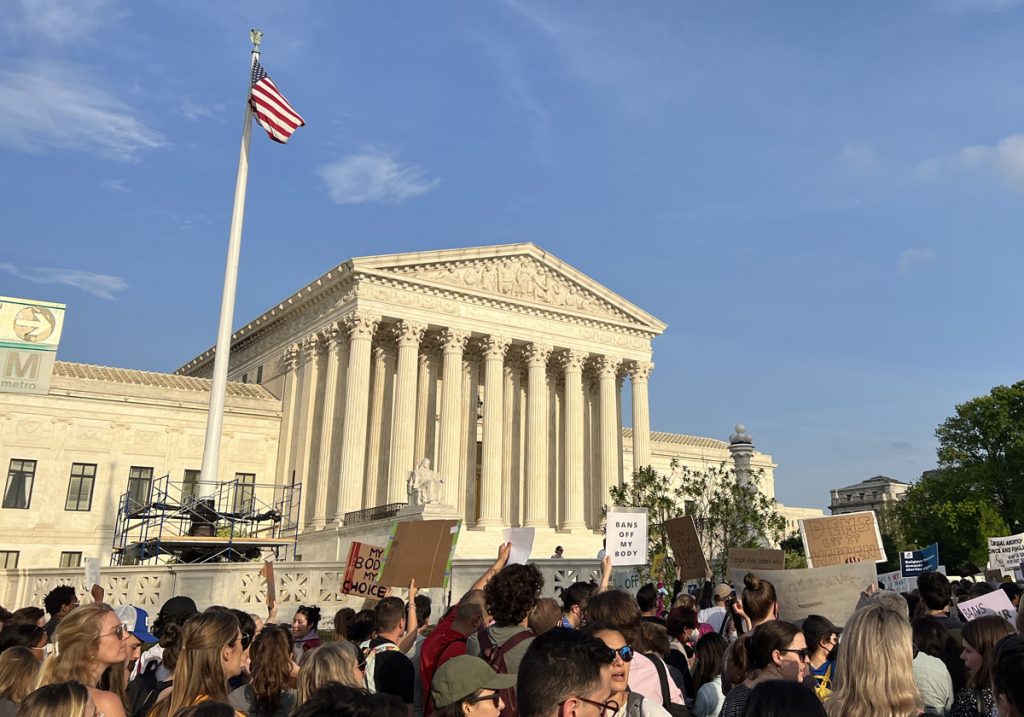 Politico reported on May 2 that the Supreme Court of the United States has voted to strike down the landmark Roe v. Wade decision, citing a draft majority opinion written by Justice Samuel Alito and circulated inside the court. The court confirmed the authenticity of the draft opinion the following day. 
The NewsGuild-CWA unequivocally supports access to abortion as a health care right and as a matter of personal choice.
The constitutional right to abortion recognized by the 1973 decision was transformational for establishing the right to privacy and the right of women and all people to control their own bodies and make decisions about their own health care. 
The Guild's 1981 convention passed a resolution saying abortion and contraception "should be a personal matter for a woman to decide" in opposing the Human Life Amendment, a constitutional amendment being debated by Congress that year.
Comprehensive, reliable and affordable health care is a human right and access to abortion is a crucial component of comprehensive health care. The NewsGuild-CWA has long been an advocate for health care that includes abortion, contraception and gender-affirming care. These are crucial human rights — an expression of personal choice, not partisan talking points.
Overturning the rights guaranteed by Roe v. Wade will disproportionately impact the lowest paid workers. It also will affect those living middle-class lives, many of whom would have to travel significant distances and spend more money to get the health care they need. Workers need access to safe, affordable abortion care just as we need parental leave, childcare, and all other policies and practices that help us build and sustain the families and lives we deserve. It is, as are all issues of labor, one that spans class, race and gender. And we should fight for it as such. 
We encourage our members to respond to this assault on personal freedom and essential health care by doing what we do best: protecting our rights at every workplace. 
Leaders and members of the Guild will develop proposed contract language that provides coverage for abortion care in collective bargaining agreements so workers will be protected regardless of what the Supreme Court and state legislatures decide. We call on employers to do the right thing and protect workers' rights to make their own health care decisions.
Some have suggested that the leak of this opinion is a betrayal that undermines the court and should not have been reported. We strongly disagree. The people should know what their government is doing and journalists are the ones who keep us informed.
We fight for all of us to have transparency so we can make decisions about our lives and our communities. We commend the courageous reporting by Politico journalists and stand with them. 
We have been holding power to account and defending democracy since 1933 and will continue to do so. 
In solidarity, 
Martha Waggoner, International Chairperson
Jon Schleuss, President
Marian Needham, Executive Vice President
Martin O'Hanlon, CWA Canada President
Diane Mastrull, Region 1 Vice President
Dan Gabor, Region 2 Vice President
Kevin Flowers, Region 3 Vice President
Michael Cabanatuan, Region 4 Vice President
Bill Baker, Region 5 Vice President
Jeff Gordon, Region 6 Vice President